Sacred Navaratri Shakti Sadhana
September 28, 2019 - 8:00 am

-

October 5, 2019 - 11:30 am

Open to all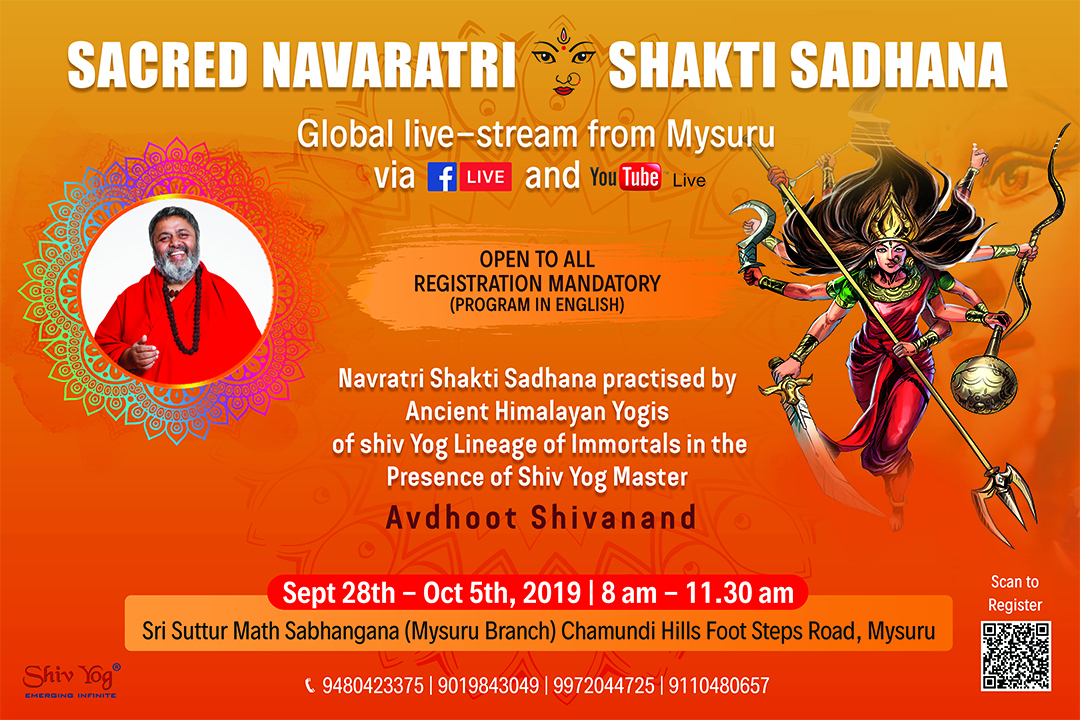 This Navaratri meditate with the master at the foothills of the Chamundi Hills, the abode of Goddess Chamundeshwari in Mysuru, Karnataka.
Dr. Avdhoot Shivanand will initiate all of us into the sadhana which the immortal masters of the ancient Shiv Yog lineage used to do. It is a most powerful sadhana that will facilitate your karmic release (release of stored up psychic impressions) and overall transformation.
Organise special Navaratri Sadhana locally in your vicinities do the life-transforming sadhna to experience the Blessings and Presence of Shiva-Shakti and the Immortal masters of the shiv Yog lineage.
The immortal masters of Shiv Yog lineage practised powerful Sacred Shakti Sadhna and Shiv Sadhna.
This Navratri is special for all Shiv Yogis. It is a great opportunity coming after many lifetimes – a chance to practise Sacred Shakti Sadhna and awakening of Kundalini Shakti during this Navratri with The master of Shiv Yog Lineage of Immortals, Dr. Avdhoot Shivanand Ji.
The sacred Shiv Yogi Master loves all of you. You may be residing in any part of the world – he will reach to all of you to bless initiate you into the practise of Shakti Sadhna and do the Sadhana with all of you at your place of residence.
There will be direct relay from Suttur Math in Mysuru through Shiv Yog FaceBook Live and Shiv Yog Youtube live.
Every day there will be sacred internal holy Maha Yagna practised by masters of Shiv Yog Lineage. A Maha Yagna done internally to burn karmas to create a beautiful Human life.
Dr. Avdhoot Shivanand ji has agreed to reveal and do the sacred Sadhana with all of you. What amazing blessings of Lord Shiva and Goddess Adya Shakti.
To get the real benefit of this Sadhana, please start practising pure intention, eating less – preferably in a 18 to 22 hour fasting window. As far as possible eat raw food. Prepare yourself to be worthy of grace.
Blessings from Shiv Yog Master
Dr. Avdhoot Shivanand Ji
Use this link to register for the Mysuru, in-person Navaratri Sadhana: https://forms.gle/3x6mxstSJYR3yMC96
This event is open to all.